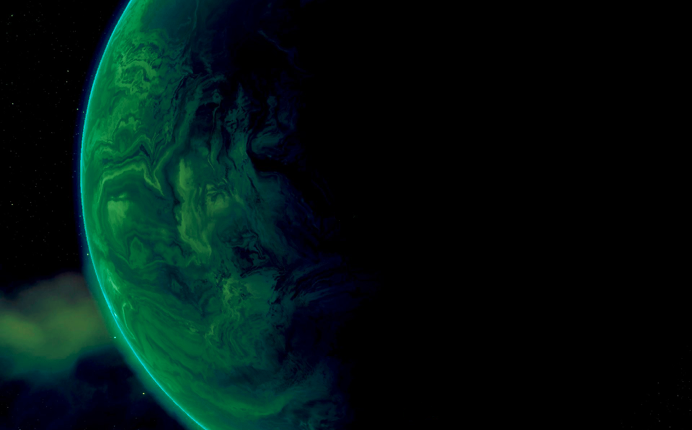 ---

Phorcys from orbit on day 91 of the 65th year of the Confederal Calendar, the date of first contact
---
The Equatorial Meridian
There is nothing for a hundred miles in any direction but dismal flats of grimy sand and mud, crawling with ragged black moulds. Bubbling springs of hydrochloric acid, and shallow pools of toxic saline water layered with blackish scum. A featureless waste, dark under the shrouded skies of chlorine gas and the half-light of a dim star.
But through the storm-wracked acid clouds of Phorcys, the great dome of the Capital finally emerges. A vast radiation shield kilometres across, protecting the upper levels of the habitat-vault - and the teeming millions scuttling through the darkness within.
Through the gloomy murk of sickly-yellow green fog a hardened landshuttle approaches, its immense wheels churning through the fetid wastes. Its thick ceramic shielding bears the Glyphic mark of Vault 13, from the East Continent.
The ground shifts as an automated hangar-port rises from the sands. The vehicle trundles in. It docks with an elevator platform and there begins its slow descent into the Capital - Habitat-Vault 01,
Carrion Harvest
, the beating hidden heart of the Confederation.
---
2204873-Aerovoid-Technician clicks his limb segments with disapproval at the lack of decontamination procedures - but then this is to be expected of Meridians. They relish exposure to the hostile environment. 2204873-Aerospace-Technician believes in the eugenic value of hardship and danger to the oizys race as much as any Confederal official - but he is less of a believer when it concerns his own personal safety.
The comms crackle into life as their hosts pick up their short-ranged receivers.
"Confederal Landshuttle 884-East-13, Vault 01 entry-control demands status clarification. You are expected as part of a convoy with 876-East-13 and 629-East-13"
Their signaller responds, stridulating only two limbs in rapid Standard Code.
"Report 876-East-13 and 629-East-13 were lost to magma subduction surge during maritime transit, at co-ordinates 5° 28' 30.7164'' N · 187° 57' 0.8856'' E. Long-range communication array of 884-East-13 was damaged in eruption, preventing loss-report to Vault 01 Command"
The controller clicks acknowledgement.
"Satellite data confirms subduction surge. Losses noted. 884-East-13 cleared for entry"
The platform carries them deep underground before the ramp opens into the darkness of 01. 2204873-Aerovoid-Technician and his kin-retinue exit the landshuttle warily. A military-caste escort waits at the bottom of the ramp to receive them.
"Welcome valued-adept-friend of Vault 01", he is greeted in Standard. "Adept-friend is requisitioned at Confederal Air-Void Control".
These eugenics-fixated Meridian oizys are rope-limbed hulks compared to his wiry east-continental kin. 2204873-Aerovoid-Technician clicks his cloacae and feels the reverberations coming through them - in places their exo-skeletons are almost a decimetre thicker than those of his own party. He coils a pereiopod around the handle of his mono-blade nervously. He is all too familiar with Meridians' penchant for sudden mating attempts on any they perceive as isolated or vulnerable.
"This one will follow" he replies tersely, wasting no time on formalities.
The escort leader follows suit. "Good".
"Close-watch the soldiers" 2204873 stridulates to his personal kinguards in East Continental. He doubts the escorts understand. They chitter among themselves in Meridian, but at least 2204873 knows their language well.
The East-Continental Party are led down the winding intestinal tunnels of Vault 01, thousands of oizys workers scuttling through the blackness alongside them. Back home there would be separate tunnels, or at least they would be cordoned off from the menial caste by thick-impact glass. But Meridians do not believe in the safety of stratification, 2204873-Aerovoid-Technician knows, they believe all should be exposed to the predation of their fellow oizys. His kinguards spark their electromitters at any rabble who dare get too close, but in the festering confines of the tunnels, proximity is unavoidable.
Without warning the seismic alarms blare. A juddering quake passes through the tunnel and the oizys flatten themselves against the walls until the last of the tremors subside. "Minor tremor" an announcement sounds as the dust clears, "casualties limited, breach contained, all units proceed as normal".
Soon after their party passes a violent scrabble, a cluster of engineers seizing a colleague wounded in a tunnel collapse. They pin him down as they stab their ovipositors deep into his writhing body, chirruping with violent delight. Despite his fear 2204873-Aerovoid-Technician clicks hungrily at the sounds, echo-mapping the entire spectacle as he passes. Their ninth limbs glisten with black fluid as they withdraw, and drones emerge from alcoves in the walls to drag their spasming victim down to the corpse nurseries. He feels his ovipositor stirring in its sheath, and hopes his escorts are not so provoked. 2204873-Aerovoid-Technician has not mated in many cycles now - but perhaps after his performance today that will change.
They are safe at last once they arrive at the passage-lock to Confederal Air-Void Control. A phalanx of feared Meridian shock-troops bar entry to the unauthorised with cutting-edge plasma throwers. A shimmering wall of high-intensity microwave radiation crackles behind them, enough to cook any oizys that dares an attempt - or any of the guards should they dare to retreat. Their escort leader runs through a dozen biometric scans before the microwaves flicker off and the gates disengage, opening up onto a vast circular chamber.
This is the beating heart of the new era. Hundreds of task-stations arranged in a tiered series of concentric rings, thronging with oizys, a raised dais at the centre from where mission control observes proceedings. Delegations from every corner of the Confederation are present, chittering in anticipation. Wealthy industrial backers from the kin-leagues of the West, Master-Engineers of the East Isthmus Fortress-Mines, Commanders of all the Meridian Hierarchies. And then there is his party, specialists bearing the technological secrets of the East Continent. Though diminished by their losses at sea, this does not concern 2204873-Aerovoid-Technician greatly - if anything it means the credit for the mission's success will be solely his.
"Welcome to Vault 01 valued-knowledge-keeper', a Meridian mission controller stridulates down to him. "Air-Void Control has awaited your expertise. Reported Valued 2012008 and 2022504 are dead?'
"Valued 2012008 and 2022504 lost with convoy", 2204873-Aerovoid-Technician replies.
"Unfortunate" the commander clicks.
"Yes. Unfortunate. But this one will perform his utmost"
2204873-Aerovoid-Technician is escorted to the tactoaudio terminal from where he will monitor the launch of the vessel his team have spent three years designing. He only hopes East Isthmus engineering was up to the task of constructing their vision. Alongside him at their many task-stations, oizys monitor the telemetry from orbital probes and satellites over tactographic feed - but today is a new day in the history of the Confederation. Today the first manned ship is sent into the void, and the first oizys will step out into the endless world hidden above the clouds.
"Confederal-Ally-Friends" a Meridian Commander stridulates at a high pitch, audible even over the teeming bustle of the control chamber. "Our species has developed for two million years on Phorcys. Two million years have tested the evolutionary fitness of the oizys to its limits. To endure-expand, the swarms must adapt to a new home in the void" - a quake rocks the chamber as if to punctuate his point - "we are the pinnacle-peak of evolution, and only our Confederation is worthy to reach the new world. This day marks the birth-beginning of the coming race, that will inherit the planets and the stars."
The chamber erupts in triumphal chittering.
---
1973088-Voidreacher listens to the feed from Air-Void Control. It mocks him. They haven't even lifted off yet from their launch facility on the North-Meridian Plateau, and the ship is already being buffeted by the howling sandstorm outside. They have nothing to celebrate yet.
He reflexively curls and uncurls his limbs in and out of a defensive lattice. He knows the instinct accomplishes nothing, but he can do little else when left helpless against an imminent threat. Getting even a robust unmanned vessel through the atmosphere of Phorcys is far from guaranteed. Getting this fragile pressurised and temperature-controlled capsule into orbit even less so. He is military-caste, he is Meridian, he serves the swarms and fears no danger on the face of Phorcys - but this is a voyage into the unknown reaches of the sky.
"For the race" he clicks to himself, a mantra taught since spawnhood, to steady his nerves. "For the race. For the swarm. For the genome"
"Valued-vessel-crew" Mission Control begins, "launch begins in 10 minutes"
1973091-Voidreacher flexes with anticipation beside him. He is his brood-kin - it would not be wise to cram two oizys unrelated by blood into such close proximity. "When we return-reach Phorcys" 1973091 chitters, "we will be master-heroes of the Confederation. None will challenge our superiority. All will cower. They will pay tribute of mate-slaves and triple-rations to returning void-heroes" He is his spawn-sibling, and his stalwart ally, but he is also a fool.
"If we return", he reminds his brood-kin. 1973088 knows he has been assigned to this mission because of his failed mating attempt on 2992001-Military-Logistician, who as his scars remind him he should probably not have double-crossed, and he doubts 2992001 would have had him shortlisted for this mission had he believed there was any great likelihood of his return. He is corpse-fodder. A test subject, just as much as the slaves in the cargo-hold.
"This is 2204873-Aerovoid-Technician, running pre-launch checks and diagnostics" - unfamiliar east-continental vocals buzz over the comms. He shudders to think his life is in the hands of a racial inferior. He has never trusted that secretive breed. And he does not trust their ship. "All systems optimal. Beginning launch sequence"
1973088-Voidreacher clenches his cloacae as the ship begins to judder like a collapsing tunnel. The reaction wheels scream as they torque to keep the ship upright in the winds. Red warning lights glare in eyespots unaccustomed to anything brighter than perpetual cloud-wreathed twilight. The tactofeed drums a litany of dire projections against his cuticle and the audiostream chatters rapid nav-code, charting a turbulent and unstable ascent. They have liftoff.
"For the race. For the swarm. For the genome" he and his brood-kin intone, both of them now coiling their pereiopods tightly around the supports.
"Ascent turbulence within acceptable parameters" the aerovoid-technician drones over the comms, and 1973088 would mate-murder the foreigner right now if he was with them in this shaking canister.
Just when it feels the vessel will break apart into a screaming mid-air conflagration - the tension suddenly levels out. The voidreachers begin to float. "Praise the race", 1973088 chitters, his cuticle swelling with over-powering pride as he realises where they are.
"Mission control", he reports, "we have reach-ascended orbit".
---
1010873-Mission-Controller monitors an audio-frequency rendering of the vessel's orbital trajectory. He clicks rapidly in thanks - he dreads to think how failure would have been punished. Now the ship burns a course to dock with the Confederation's prototype space-habitat. Constructed years ago by drone-probes, it will soon receive its first occupants.
Yet celebration is muted in Air-Void Control. The danger is not quite over yet. The habitat's orbit hugs the night-side of Phorcys to protect it from surges of stellar radiation, but a surge before the vessel can reach it and the crew will not survive.
-When they do, most can only manage breathless relief. "Our race has reached the stars" 1010873-Mission-Controller stridulates to all the chamber. "Praise the swarms".
The crew clamber onboard. For several hours they test the habitat's scanners and the instruments. Then they suit up for EVA. The free-born crew that is. 1010873-Mission-Controller's cloaca palpitate with distaste. Three of the first five oizys to tread the stars are Western slave-stock. Castrated from birth, and implanted with docility-inducing nerve-breakers - detrimental practices utterly counter to the natural selective principles of the Confederation.
But then, he supposes, if there's anything westerners are good for, it's seeing what happens when you throw them out of an airlock.
"Begin vacuum exposure test" he transmits to the crew.
A naked thrashing oizys is ejected into the void. Specialised implants transmit its wildly spiking bio-telemetry as it dies. Its hydrostatic segments swell and burst. Its fluids boil. Its death is quick and - as the neurographics show - very, very painful.
Air-Void Control's chief biologer chirrups with satisfaction. "Void-exposure reaction within theorised parameters. No anomalous readings"
1973088 and 1973091 emerge from the airlock shortly after in bulky exo-suits, propelling themselves towards the floating slave-corpse with controlled bursts from their suit-thrusters. They carry biopsy equipment to retrieve tissue samples from the body. 1010873-Mission-Controller marvels at the suits in action. Oizys echolocation is useless in vacuum, and so high-resolution cameras are fixed across their chassis, in-suit computers converting optical input into audiodata. The voidreachers navigate in zero-gravity vacuum seamlessly. The technicians of Vault 13 delivered on their promise.
"Repeat test" 1010873-Mission-Controller transmits again.
The voidreachers expend another of their slave-cargo, ready with tissue-extractors as soon as their victim stops convulsing.
"Repeat test"
"Wait!" a research aide sends audio-telemetry to his terminal from the habitat's now activated long-range scanners.
1010873-Mission-Controller does not like this data. It doesn't make at any sense to him at all. It is certainly not within mission parameters to deal with such an event.
"Gravitational wave readings severely anomalous, master-controller", the aide informs him. "A distortion, growing in diameter, 100 metres - 150 metres - 200 metres - 300m -"
"-Crew! Postpone testing. Return to habitat immediately!" he stridulates rapidly in Meridian, a panicked reflex. "An anomaly has been detected. Danger unknown. Orders are to monitor this phenomenon. Return to surface cancelled. Access to lander vessel is prohibited pending observation of anomaly"
Something truly inexplicable is happening only fifty-thousand kilometres from low-Phorcys orbit.
Not an oizys present has any idea what it is.