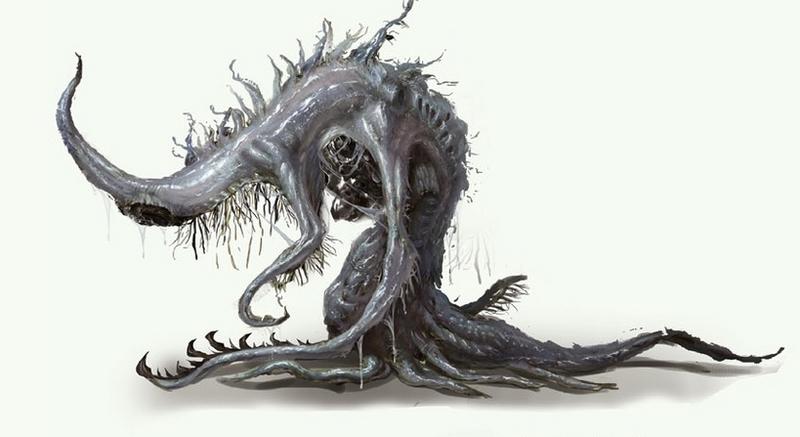 Introduction
Once, these beings must have called a planet home. They must have evolved in social collectives, for evolution across the multiverse provides no other blueprint for intelligence, let alone star-faring life. They must have formed cultures, societies, civilisations. Laws. Languages. Governments. Surely it can be no other way.
But none of these things - once thought necessary for advanced intelligence - survive. If they ever existed. Whatever their naturally evolved form once was, whatever shape their societies and cultures may once have took will never be known, for the Great Ones reveal nothing of their past that is not shrouded in cryptic allusion and neologism.
All that is known is what can be observed today. Precious little, given that only three individual Great Ones have ever been encountered by the Owners. For the species are wanderers. Solitary, space-dwelling nomads roaming the outer reaches of solar systems and across the interstellar gulf. Each individual is unique, a technologically and genetically augmented mass of flesh and computronium almost a hundred of metres in length, bodily encased in a cylinder construct that is both interstellar-capable Von Neumman spawning factory ship and neurosurgically integrated prosthesis, responding innately to - and indeed an extension of - its occupant's thoughts and desires.
Each individual appears to possess the status, resources - and territorial isolation - of a sovereign, starfaring nation. Indeed new territory and distance from the claims of others is believed to be the primary goal of their outward and solitary exodus. It is the Owner's hypothesis that the Great Ones have advanced to a post-civilisational state, where any theorised ancestral polities have long since ceased to exist and every individual is its own master. Whether the proliferation of post-scarcity technology inevitably outstrips the ability of nations and governments to control their citizens, or the Great Ones' civilisation collapsed in some unknown catastrophe, is a mystery.
The Owners believe they originated somewhere in the Milky Way's Scutum-Centaurus Arm, but over unknowable ages they have spread across an irregular volume hundreds of lightyears across, its epicentre uncertain. Even the extent and shape of this region is a dubious estimate. Its most significant basis is the Owners' detection of EM signals assumed to have originated from Great One technology. Other data points are anomalous stellar flares believed to be the result of astroengineering experiments, and the dating of debris found by archaeological surveys in systems across the spiral arm.
Yet such traces of activity are scarce and unreliable. Even their number can only be guessed at - conservative projections suggesting less than a million Great Ones extant across space. Yet given their incredibly slow, parsimonious metabolisms and resultant biological immortality, this would be no impediment to their spread between the stars.
Biology
The Great One is a leviathan hulk of flesh and machinery requiring an enormous amount of energy - and yet this is nigh-impossible to come by in the interstellar void which they traverse, and almost as scarce in the remote interplanetary reaches they inhabit. To survive their millennia long voyages - and even in their baseline habitats - the metabolic rate of their organic tissues and the processing speed of their computronium prosthetics must be ponderously slow. And to make full use of the myriad but scarce metabolites of the inter and intrastellar mediums, the Great One's nanoengineered cells are not only hyper-efficient but able to metabolise through almost any conceivable means.
For the longest interstellar journeys of thousands or even millions of years, biological tissues fall into a metabolic dormancy which reduces their energy demands a hundredfold, while computronium cores run at their lowest, sub-sentient operational capacity - just barely enough to run navigational guidance and make course correction burns. Attendant fleets of probes siphon trace atoms of hydrogen from the void, the only external source of fuel for onboard fusion reactors, while carefully rationed antimatter produced and stockpiled in orbit of the star the Great One left behind provide the primary energy source for the voyage's duration. Every biological cell contains specialised thermotrophic and electrotrophic organelles, able to subsist off the waste heat and a fraction of the electricity generated by these processes.
When the Great One finally arrives, resources are more plentiful, though the need for extreme parsimony to sustain such a large and complex biomechanical construct is always pressing. While close to a sun great fields of solar platforms are deployed, blooming across kilometres of space like immense and glittering flowers. These power antimatter farms that produce the bulk of in-system energy, beamed back to the cylinder via microwave or laser - or possibly quantum information teleportation, which some Great Ones are believed to have mastered.
Further out, in the ice-strewn peripheries of star systems, thousands of skimmer probes issue from the cylinder to siphon hydrogen and methane from cryojovians' rings. Thousands more are manufactured to scoop the complex organics that spew in geysers from the sub-surface oceans of their icy moons. This is the Great One's most significant source of nutrition. Magnetotrophic organelles activate and metabolise when passing through the magnetic flux interactions of the giants and their innermost satellites, a close second when the intensity is sufficient.
It is in these environments that the Great Ones run at their peak operational and metabolic speed, though still ponderous in the extreme compared to most terrestrial Nexus species. However for the longest in-system stays of many thousands of years, more advanced means of energy extraction can be employed. These increase the processing power and metabolic potential of the Great One exponentially. Geothermal taps drink subsurface cryomagma from systems of icy moons, and siphon the heat of rocky planetoids' cores. The atmospheres of gas giants are seeded with rapidly proliferating microbial cultures, transforming over millennia into unfathomably vast agricultural reservoirs. Effectively endless sustenance so long as the Great One remains in orbit.
So they subsist.
Harnessing the vast expanse of their empty territory, and pursuing whatever solitary desires, scientific, explorative or creative, that drove them across the interstellar gulf. But in astronomically rare cases, and perhaps only a few times in their species' history, two Great Ones have encountered one another. Detecting their electromagnetic and infrared emissions while en-route to the same system, or arriving to find the other already there.
Such an extraordinary occurrence may end in almost cosmically tragic anticlimax, a brief period of communication and shows of deterrence ensuing, before the more deterred of the two is permitted to replenish its antimatter reserves - and then to set out in search of a virgin system.
Yet it also invites the possibility of something all Great Ones ultimately yearn for.
Something that, as far as the Owners can determine, may never even have happened.
Reproduction.
WIP - To be Continued